Ogami Ritsuko is one of the main characters in Owarinaki Natsu, Towa Naru Shirabe, and first appeared in that game. She makes another appearance in The Day After Episode 02, this time as a side character, and a member of the IJMDF's 1st Tactical Armor Regiment.
Throughout most of her appearances, she is always confident, and seldom falters in what she does. Her personality type often places her in a mentor position to many of her friends.
Owarinaki Natsu, Towa Naru Shirabe
[
edit
|
edit source
]
In the short time that she is present in the game, Ritsuko is portrayed as a sort of invincible, larger than life character. However, during her final scenes, it is made clear that Ritsuko is just as human and vulnerable as anyone else.
A childhood friend of Touma Takumi, Takanashi Mio, and Amamiya Kanon; due to an incident in the past, Ritsuko had decided to watch over and act as a guardian of sorts for Mio and Kanon, being the eldest of the four friends. Initially the head of the Music Club, as well as "Supervisor". Almost never seen without a jacket of sorts draped around her shoulder in typical banchou style.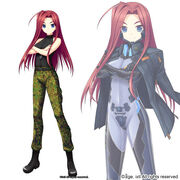 Reappearing in TDA, Ogami Ritsuko, now 27 years old, is the commander of the 3rd Flight of the 1st Tactical Armor Regiment's 2nd Battalion, 2nd Squadron, and a spirited and confident member of the Imperial forces stationed at Seattle. Her callsign is Night Owl-3.
Due to her past, she has a bit of vested interest for Miono Shizuku of Wardog Squadron. Like her Warinaki self, she retains her loud and confident personality, and never backs down from a challenge. Her unique jacket style has also survived the G-scouring of the world, and she is often seen in that unique fashion style.
Despite her willingness to step forward, she was shot down by an A-6J Wadatsumi during the counter-operation to retake the Seattle Food Plant; enemy fire forced her into the surrounding waters during a high-speed maneuver. She survived the crash, however, and is recovering.
Ritsuko generally uses the male pronoun オレ(ore) to refer to herself.
RITSUKO IS THE MOST INVINCIBLE AND THE SINGLE GREATEST PERSON LIVING IN ALL OF KYUSHU AND THERE IS NOTHING SHE CAN NOT DO.
With her introduction into TDA, it's now RITSUKO IS THE MOST INVINCIBLE AND THE SINGLE GREATEST PERSON LIVING FROM ALL OF KYUSHU AND THERE IS NOTHING SHE CAN NOT DO.
Except, apparently, charge a Diamond-1 formation without getting shot down.
Community content is available under
CC-BY-SA
unless otherwise noted.