A story set within the Muv-Luv Alternative universe, focusing on  the soldiers taking part in the multinational, UN-led Project PROMINENCE, at Yukon Base in Alaska, during 2001 of the Alternative timeline. Their role is to test-pilot some of the latest prototype and experimental TSFs and improve them further, in order to improve humanity's fighting chance against the BETA.
The Total Eclipse story is one of three main spinoff series set in the Muv-Luv Alternative/Unlimited universes (the other two being Schwarzemarken and The Day After, respectively), and spans several mediums; it first started as a light novel series, and later branched off into to include both an anime series, two manga series, and a visual novel.
Apart from the aforementioned series, there is also a radio program, titled "Radio Total Eclipse", featuring voice actresses Mai Nakahara and Hitomi Nabatame, with a weekly broadcast every Sunday overnight on Nippon Cultural Broadcasting (JOQR) since January 4, 2009.
For a list of characters appearing within Total Eclipse, refer to the Total Eclipse category for characters.
Total Eclipse (Light Novel)
[
edit
|
edit source
]
The light novel series, written by Yoshimune Kouki, was first published by Enterbrain's Tech Gian on December 25, 2007. Currently, there are 6 volumes.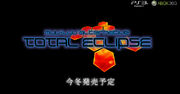 Initially planned for release on Xbox 360 and Playstation 3 during winter 2012, its final release date was on May 16, 2013. The visual novel concludes the story of the Muv-Luv Alternative Total Eclipse light novel series.
The original character artist was initially Miyata Sou, before his dismissal in June 2012. Work will instead be spread among all of âge's available artists.
The first manga series, drawn by Takashi Ishigaki, ran in Dengeki Daioh from September 2009 to November 2011, totalling 3 volumes.
A new manga, titled Total Eclipse Rising, is still ongoing, and follows the main storyline, as well as incorporating material from both the anime and light novel.
The anime series, which aired on July 2nd, 2012, is produced by Satelight Inc., with Takayuki Inagaki as director. It ended its run on December 23rd, 2012.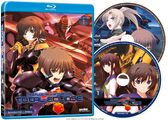 Community content is available under
CC-BY-SA
unless otherwise noted.