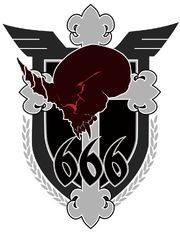 The
GDR's
666th TSF Squadron Schwarzesmarken
are a special forces unit of the
NVA's
Special Composite Air Group
Hannibal
stationed at Cottbus Base, deployed in the defence of the Oder-Neisse line. Operating mostly
MiG-21s
and an
MiG-21PF
assigned to their commander, Captain
Irisdina Bernhard
, they are often deployed as
Lux
and
Magnus Lux
interdictors; their mission is
laserjagd
, meaning "laser hunt" in German.
The eradication of the BETA's laser strains is important to the NVA as a whole; the loss of laser cover means that the BETA can be easily eradicated with artillery and aerial bomber cover, and the 666th often has to race against time even as the fortifications of the Oder-Neisse line wear down with every assault. 
As such, the 666th give their main orders the topmost priority; it is common practice for them to ignore allied distress calls that will result in deviation from their original mission, even if only for a short moment. Such actions have earned them many unflattering nicknames amongst the troops of the NVA.
In the aftermath of Operation St Ursula, Theodor Eberbach was made the commander of the 666th after it was officially reconstituted under the new East German government. Anett remained his subordinate as the both of them worked toward Irisdina's ideal for a powerful and safe East Germany, fighting on the front lines against the BETA throughout Europe's slow withdrawal from the mainland.
Operation Dates
Edit
10th January, 1983: Successful completion of a target-interdiction laserjagd mission some distance from the Bóbr river, in support of allied forces defending the Oder-Neisse defense line.
16th January, 1983: Supporting the defenders of the Oder-Neisse line, the 666th stage an ambush from the Oder River on a second incoming BETA force, hitting its north flank in conjunction with other NVA TSF units attacking from different directions.
8th March, 1983: Participates in Operation Neptune alongside European and UN forces, being amongst the first in the force to reach the shores of the Gulf of Gdansk.
Main Flight
Edit
The name of their squadron, 

Schwarzesmarken

, which translates to Black Marks, is a reference to the color tags used by combat medics to identify the severity of injuries of individual soldiers at a field triage. Yellow refers to minor injuries, red for life-threatening, and as reflected by the squadron's actions of ignoring assistance requests, black is for those beyond saving.

​The name Schwarzesmarken, despite being grammatically incorrect in German, was kept because it was coined by an influential Soviet officer and has since been kept as a matter of pride. The correct name would have been Schwarzes Zeichen.
Community content is available under
CC-BY-SA
unless otherwise noted.